For many around the world, Sunday mornings are a time for communion. A time to reconnect with our community. And chance to either escape the troubles of the world outside, or lean into them with the support of life's fellow travellers. Sunday is a time to recharge our batteries for the week ahead.
On a Sunday morning in Los Angeles, one might find themselves in a very similar situation but in a very different location. One lacking walls. One without limits, aside from those self-imposed ones which you've shown up here today to address. There are no songs to sing or passages to read. All are welcome.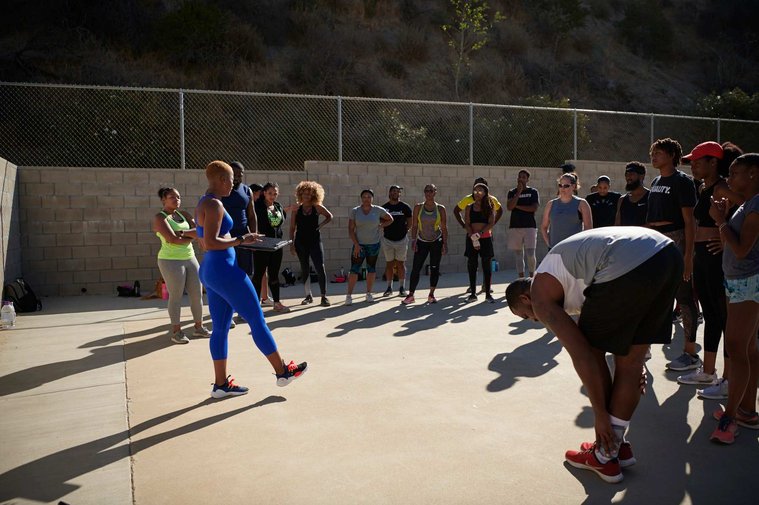 That's because the people gathered here today are not identified by any particular religious group, but are instead bonded by their desire to improve their health. They come here, to this non-descript platform in Los Angeles' well trodden Runyon Canyon, in order to exercise both their souls and their bodies.
The leader of the congregation is former collegiate track star turned fitness evangelist, Juanita Caldwell. In these parts she's better known by her Instagram handle Nït Fit (pronounced "neet" fit). Or sometimes, just called Nita by friends. As she walks out onto the increasingly crowded platform, controlling the volume of a nearby boombox with an Apple Watch firmly affixed to her left wrist, she commands attention.
Partially, this attention is the result of the kinship she's formed with many of the students. Some of that kinship being the result of long term relationships that extend beyond the "gym." Others the result of the fast chemistry she seems able to generate with those who have placed their fitness goals within her care.
The second reason she may command attention might be the stack of cards she holds high in the air above her head. While you won't find a deck of playing cards in the aisles of most fitness stores, this improvised tool seems to send a mixture of dread and excitement through the crowd. They've seen it before. They know what comes next.
As a hush comes over the crowd, she explains the rules of the game. It's fitness poker, for lack of a better term, allowing the luck of the draw to determine both the next exercise and the number of reps. A collective groan arises when she announces that today's first exercise will be wind sprints. But, obeying the cards, the group jogs quickly to the starting point. They take one last breath of anticipation. Eyeing the far wall which seems increasingly far away.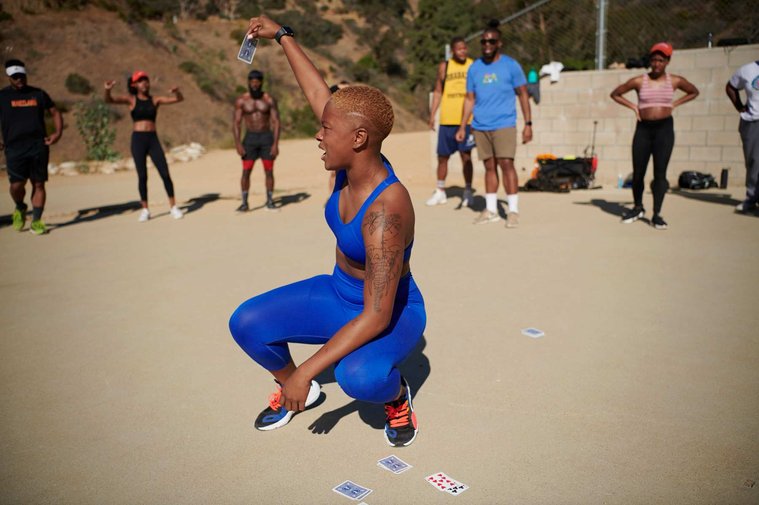 Then, with the drop of Caldwell's hand, they are off.
The workout continues like this. The beads of sweat continuing to increase as Caldwell comes up with more and more delicious ways to push her students to their full potential. There are the usual wails for mercy that one might expect from a workout session. But very few moments pass without an abundance of smiles. And, for every student struggling to get through the next rep, there are scores of other students shouting their support and clapping their hands to remind the student that they can do it. Those claps remind the student they are loved and supported. They remind the student they are worthy.
You see, this may very well be a fitness class in a city full of them. But what makes these days special is the sense of community. Los Angeles, despite the amplitude of palm trees and sunshine can be a cold place. Perhaps it won't show up on the thermostat, but as many a transplant can tell you, the many legendary freeways meant to connect the sprawling geography of the city, also serve to distance us. Whereas, in many cities, all one needs to do to feel connected is to head "downtown," finding yourself and your community in Los Angeles requires a bit more work.

In a town full of dreamers, no matter what your desire, you can find your tribe here. But it takes time. And when you finally find them, all the sudden you can feel right at home.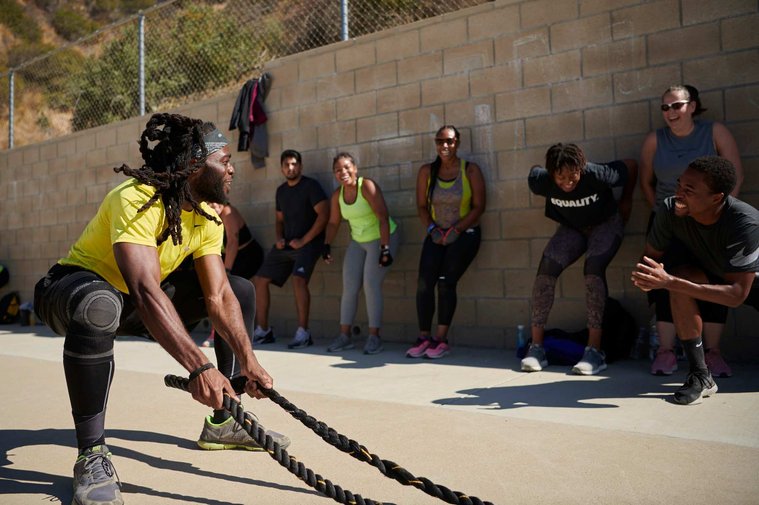 Juanita Caldwell herself is one of the city's many transplants. A New Jersey native, Juanita went on to promising track career at Fairleigh Dickinson where she studied Sports Administration. She found her way to Los Angeles a year ago, drawn, like most, drawn by the weather. Her workouts largely center around outdoor environments, and Southern California affords plenty of sunshine.
Her move also coincided with her own personal fitness rebirth.. Like many former athletes suddenly finding themselves without the structure of a training regimine, Caldwell was quickly finding her hard earned athletic physique was being overtaken by the predictable effects of sitting at an office desk for hours on end.
She decided to do something about it. Hurling herself back into fitness, she began training as many days a week as she could. Many of these days she was joined by a partially willing accomplice in the form of her best friend, Tayona Brown. Caldwell's former track and field teammate at Fairleigh Dickinson, Tayona had come to Los Angeles to work in talent management.
Her side hustle was providing Caldwell the emotional support she needed to reclaim her fitness goals. She was also the one to suggest casually one Friday afternoon that Caldwell might consider expanding their workout group to include more friends.
Caldwell followed the advice and the result has been nothing short of electric. Starting with only a handful of people, Nït Fit's Sunday school now regularly crowds dozens of students into their workout sessions every weekend. That number continues to grow as participants return the following week with friends in tow. And those friends bring their friends. The journey goes on.
The group, free to join, also draws interest from the many Los Angeleno's who pass by on the proverbial LA hike up Runyon Canyon to the peak that overlooks the city. Strangers are welcome. But they won't stay strangers for long. At times, that even includes the many four legged hikers that often interrupt the proceedings to bark their approval at the completion of the latest set.
The students don't mind the interruption. Interruptions are built into these workout. Even an impromptu session of the electric slide seems welcome in lieu of another round of jump tucks. Many fitness instructors may view such diversions with ire, but Caldwell takes it all in stride.
She understands that these Sunday meetups are only partly about the fitness. They are about community. They are about fellow travellers finding a place to call home. They are about a group of people being empowered to take control of their own health and their own lives. The stronger the community, the stronger the individual.
Sunday mornings are about communion. Juanita Caldwell has created her own temple. All are welcome. And together, they go forward.